2017 — 2018
Paris, France
Parisian Apartement
Reveal through space, draw through history, construct through matter…
Harmony in betwen haussman and contemporary.
Delivered in 2018 in Paris, the renovation of this apartment delicately weaves a link between the intrinsic quality of the typically Parisian building, and a refined and contemporary vision of a today's habitat.
Starting from the typical arrangement of this kind of building (rigorous, "masterful"), the space has been simplified and lightened. Adapting it to our new lifestyles and to our contemporary aspirations, while maintaining a refined and classic spirit that manifests in the treatment of details.
Drawn to reveal the volumes and generosity of the space, our intervention underlines the beauty of the location, which gives place to the city and the streets of the 16th district of the capital. Materials, patina, bronze, wood, gildings, marble, brass… Every space becomes an immersion in the raw nature of matter.
As we navigate through the bathrooms, where even the morning shower becomes a sensorial experience, water springs out from a heart of marble. Or even the corridor, where a series of closets underlined by brass, rounded and fully customized, give rhythm to the space and suggest a transformation of these spaces into hidden structural elements and flowing space, which break the angles. This threading of a new genre gives an impression of smoothness and goodness; their proportions, which are the same in the entirety of the apartment, gives landmarks to the eye.
Coherently with the original spirit of haussmanian buildings, every detail honors the elegant Parisian tradition: custom-made closets and carpentry, a light color pallet (essentially white, gold, dark wood), stucco moldings and the interior finishes highlighted with a pearly patina. A refined execution with noble materials, perhaps even exceptional: Hungarian massif oak parquet which dark tint was chosen in the apartment to really feel the color and light atmosphere of the place, the marble was laid down with an "open book" finishing which allows the continuity of the granularity. Finally, the omnipresent and discreet use of brushed brass unfolding itself like a golden thread — from the doorknobs, to the windows and the light switches — to marry the curves and the rooms of the apartment.
Like memorial vestiges, the water pipes, previously hidden in a closet, today stand in the middle of the room, almost intact, becoming a natural sculpture, a sort of "Land-art" sustainable and designed. In fine, the moods, the desires, the soul of the inhabitants will impregnate the place like — as we think — the place, will breathe magic into the hearts of the residents.
[…]
[×]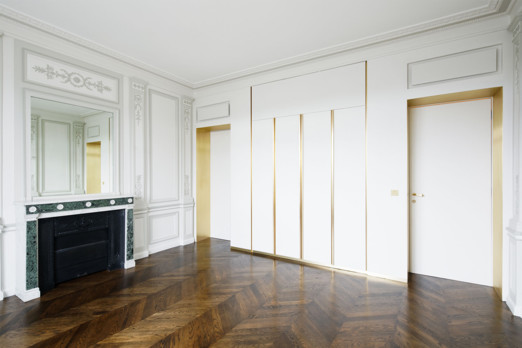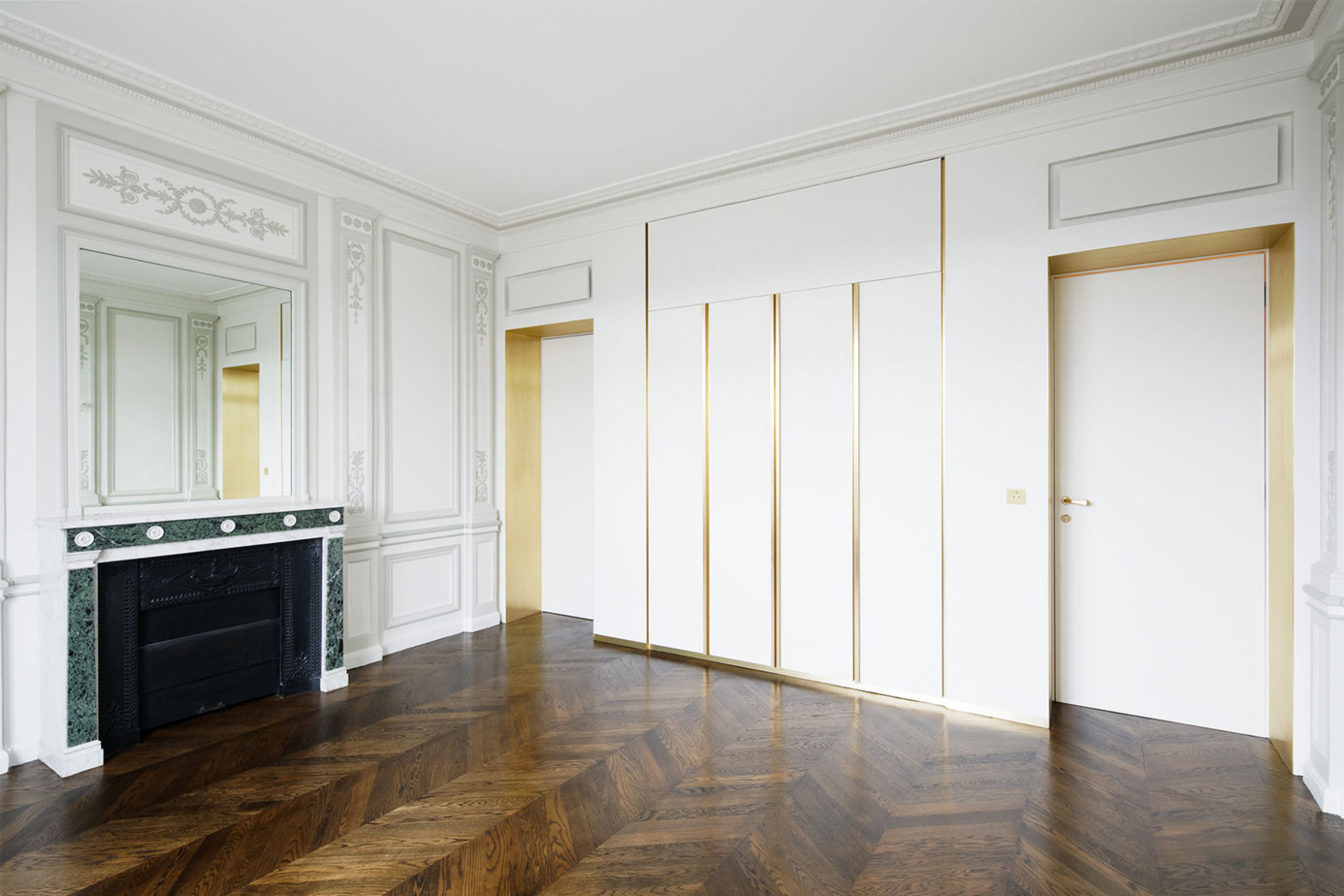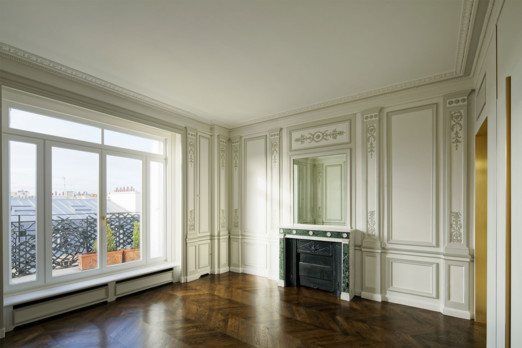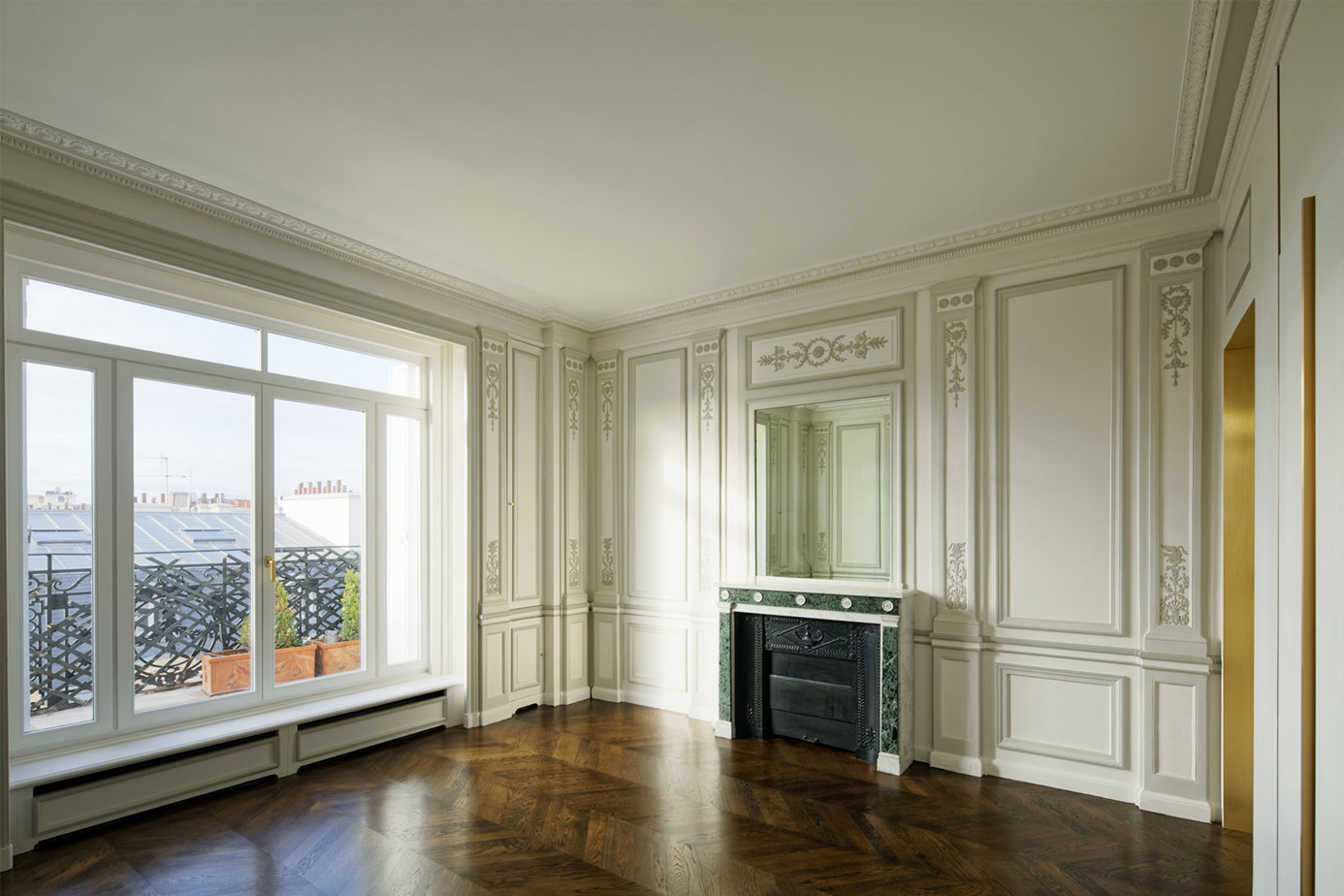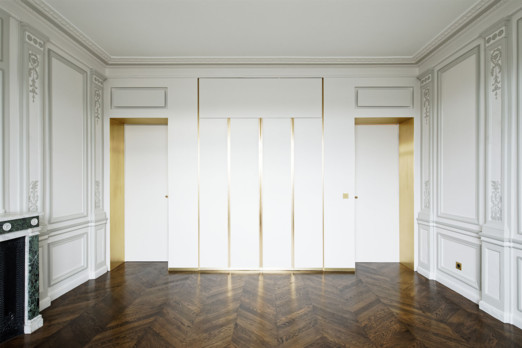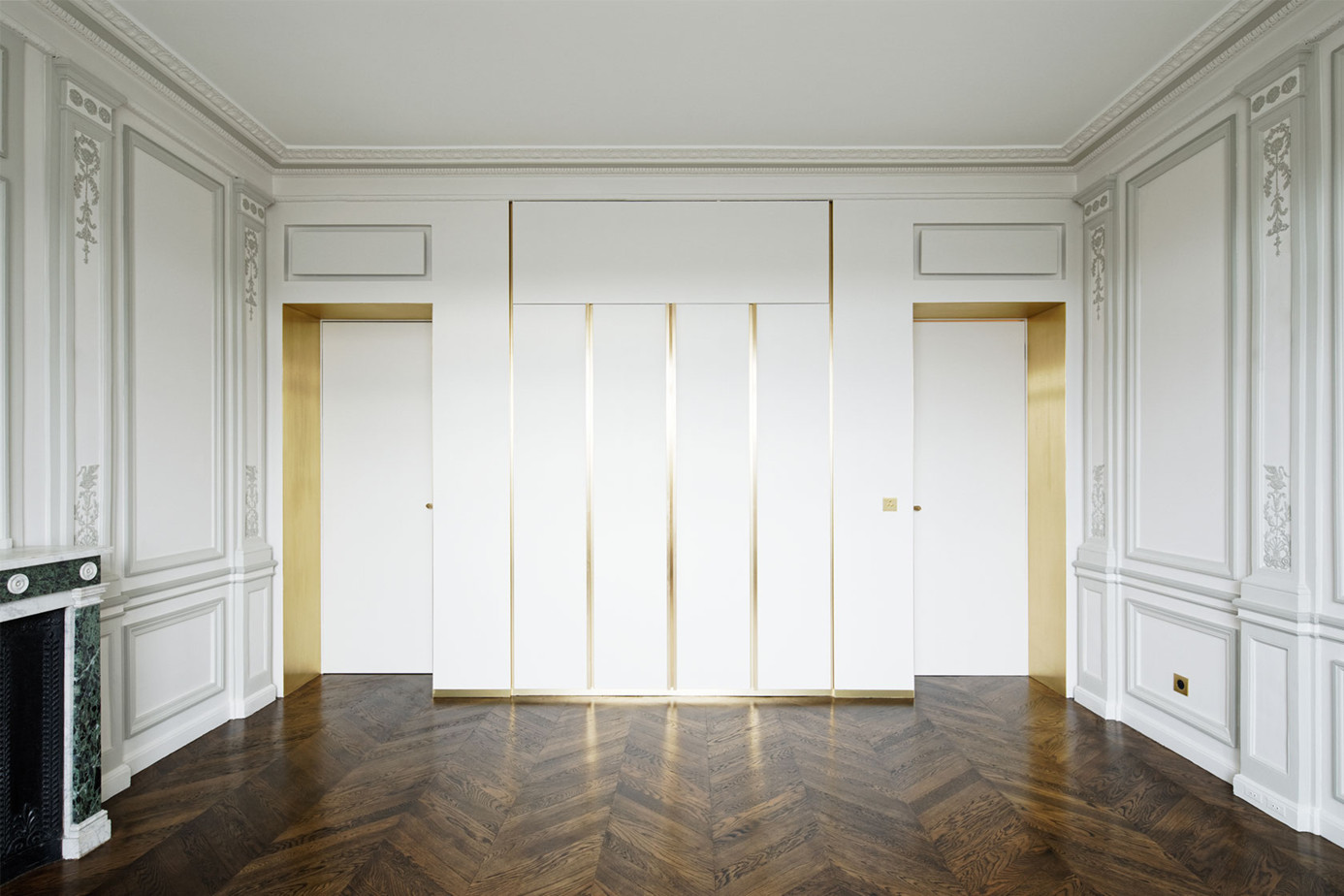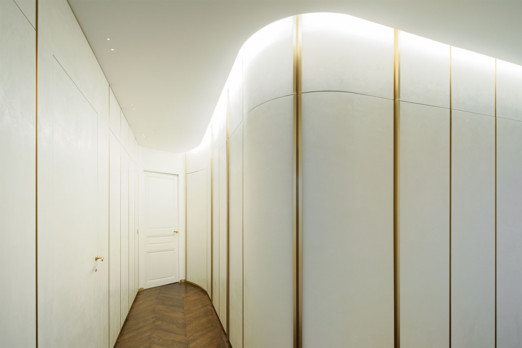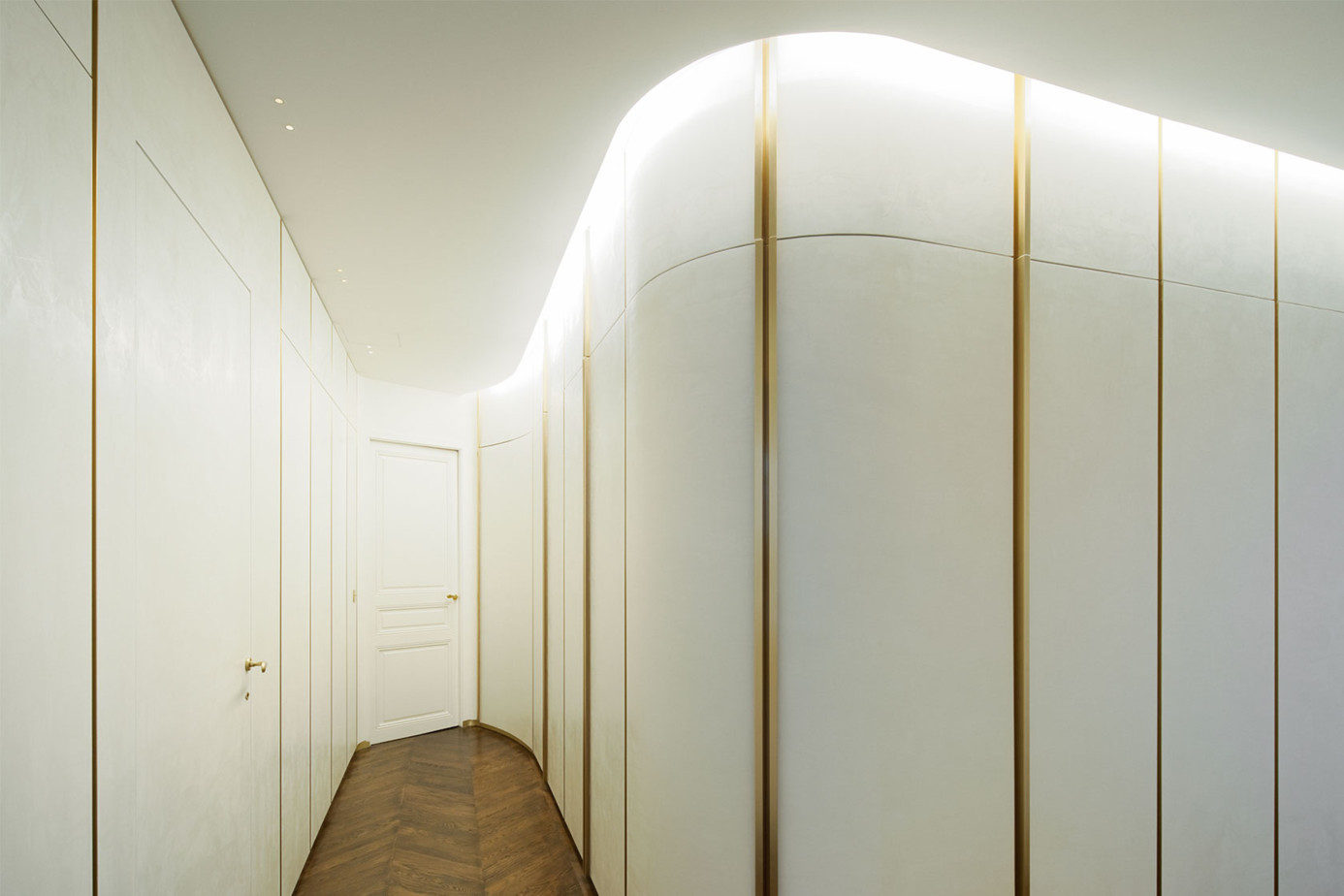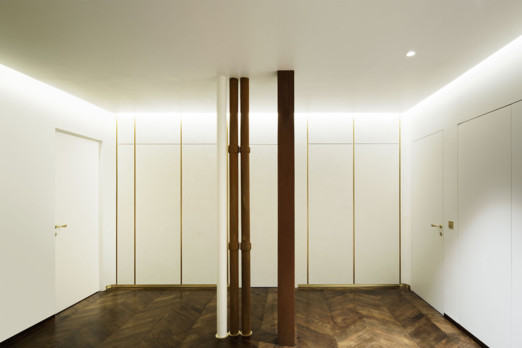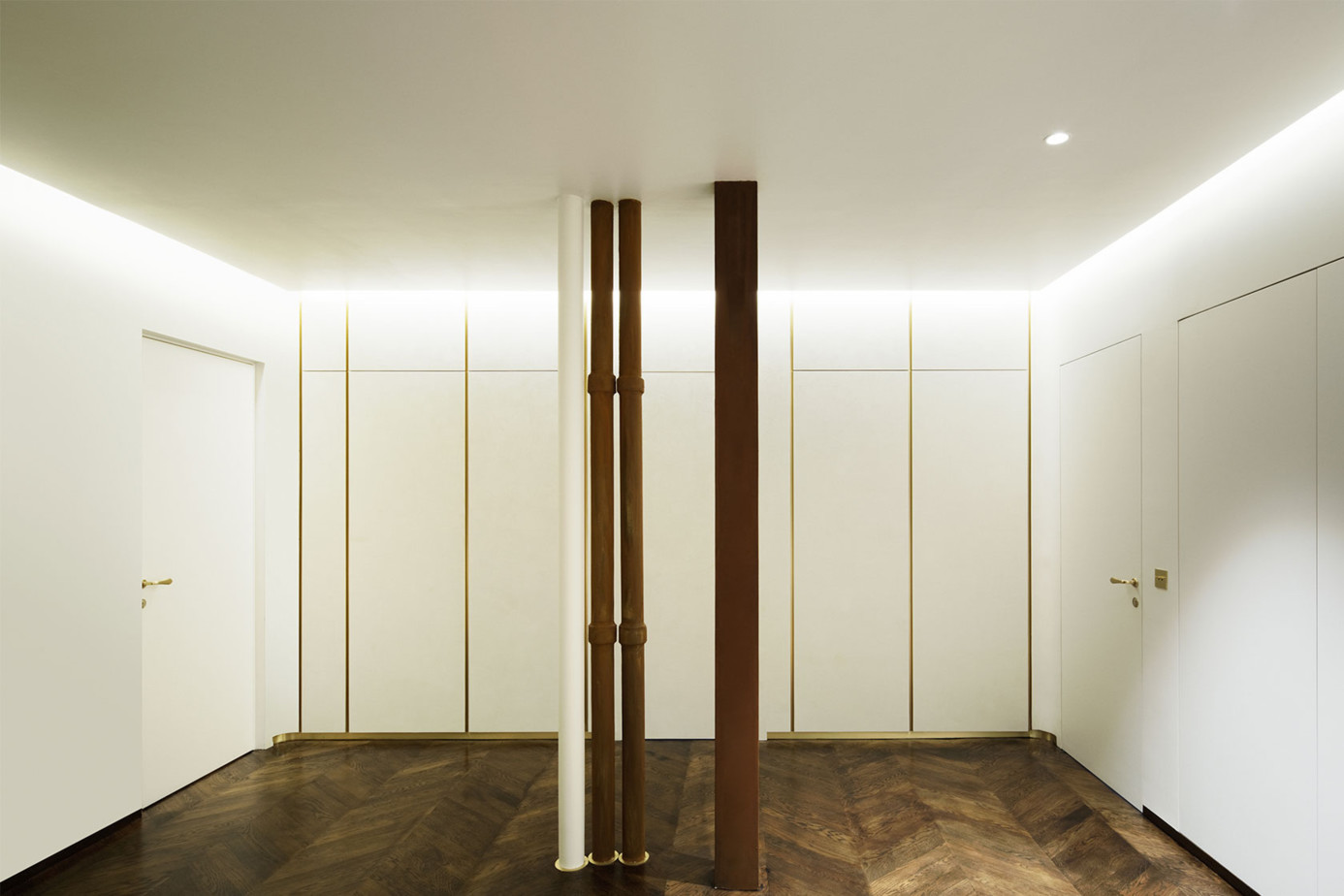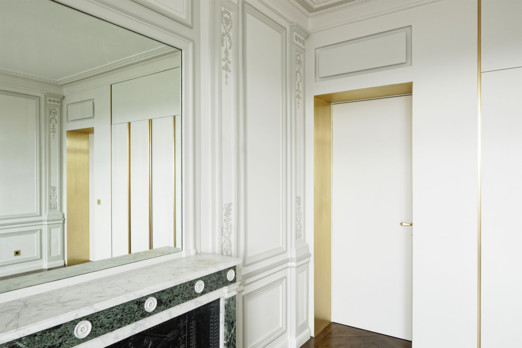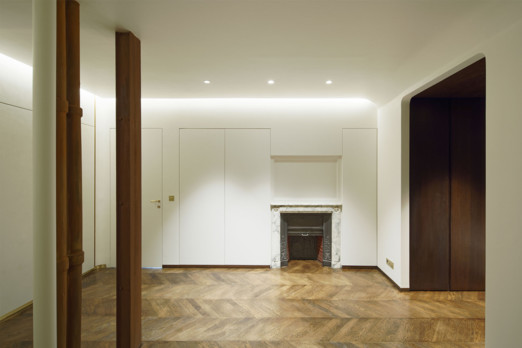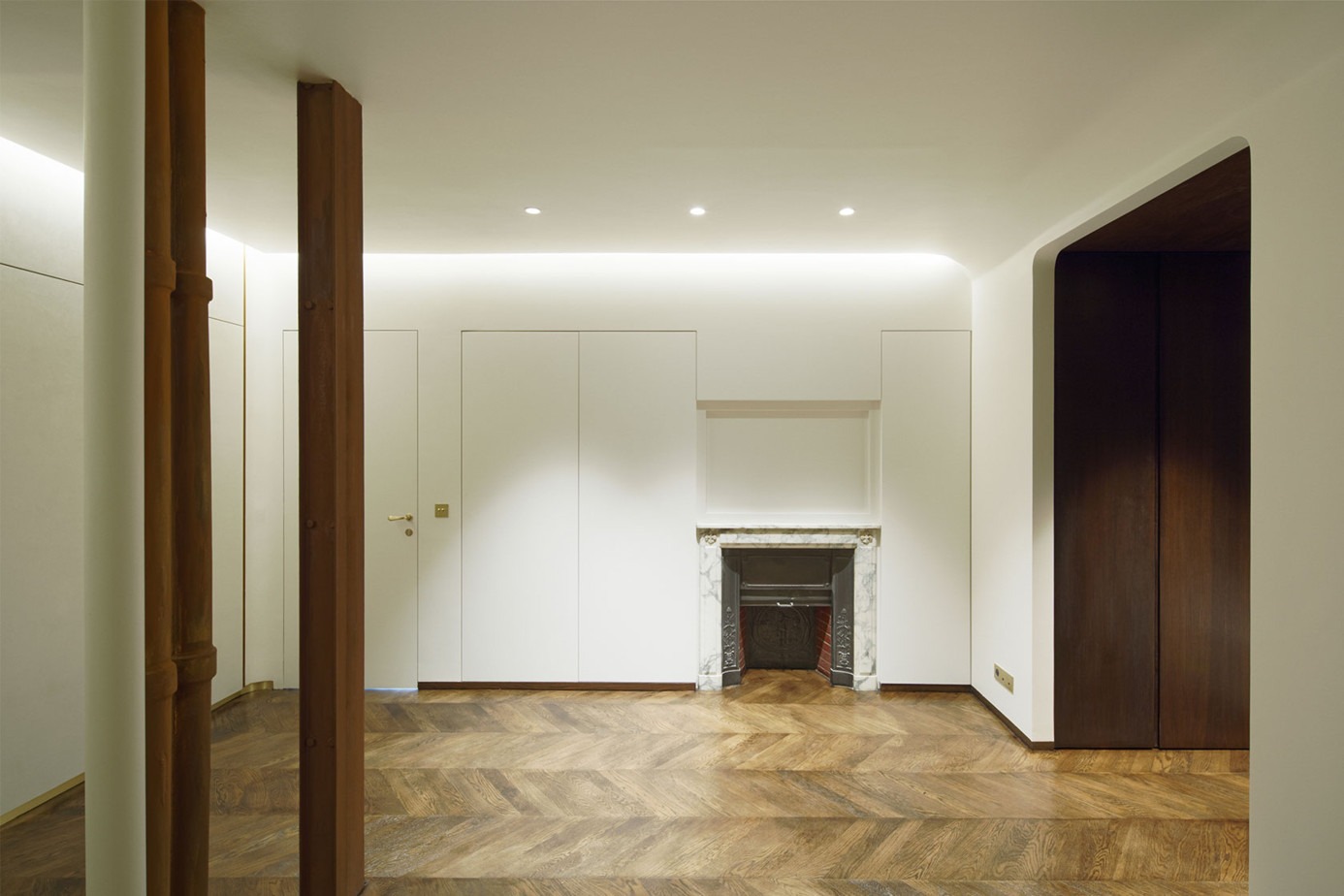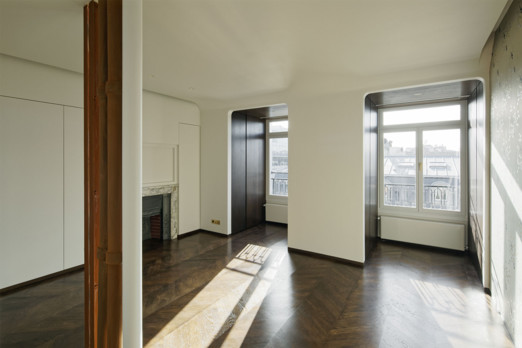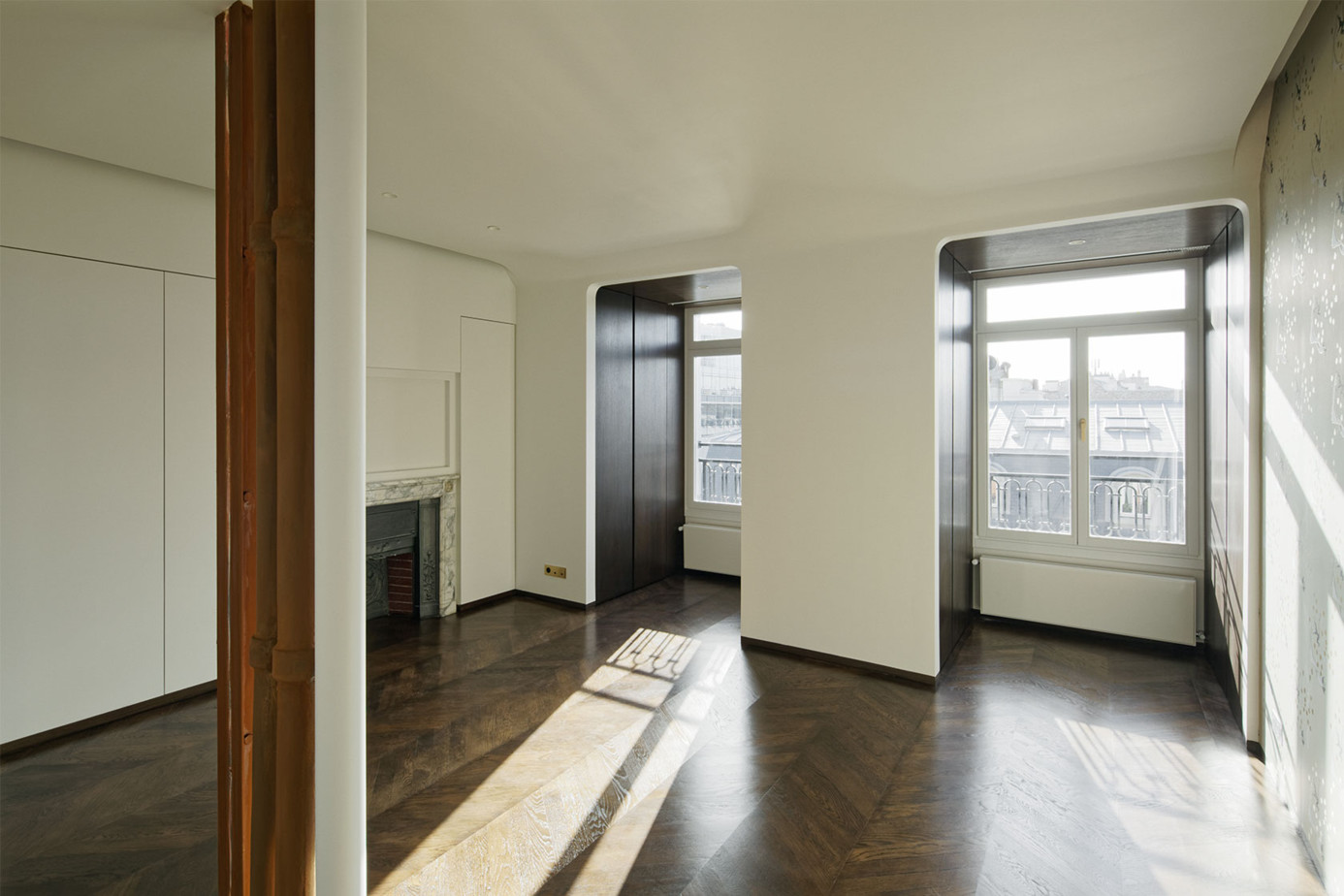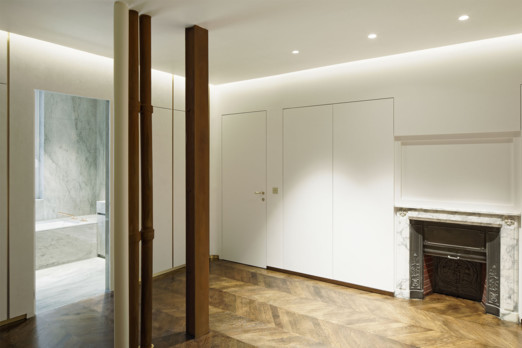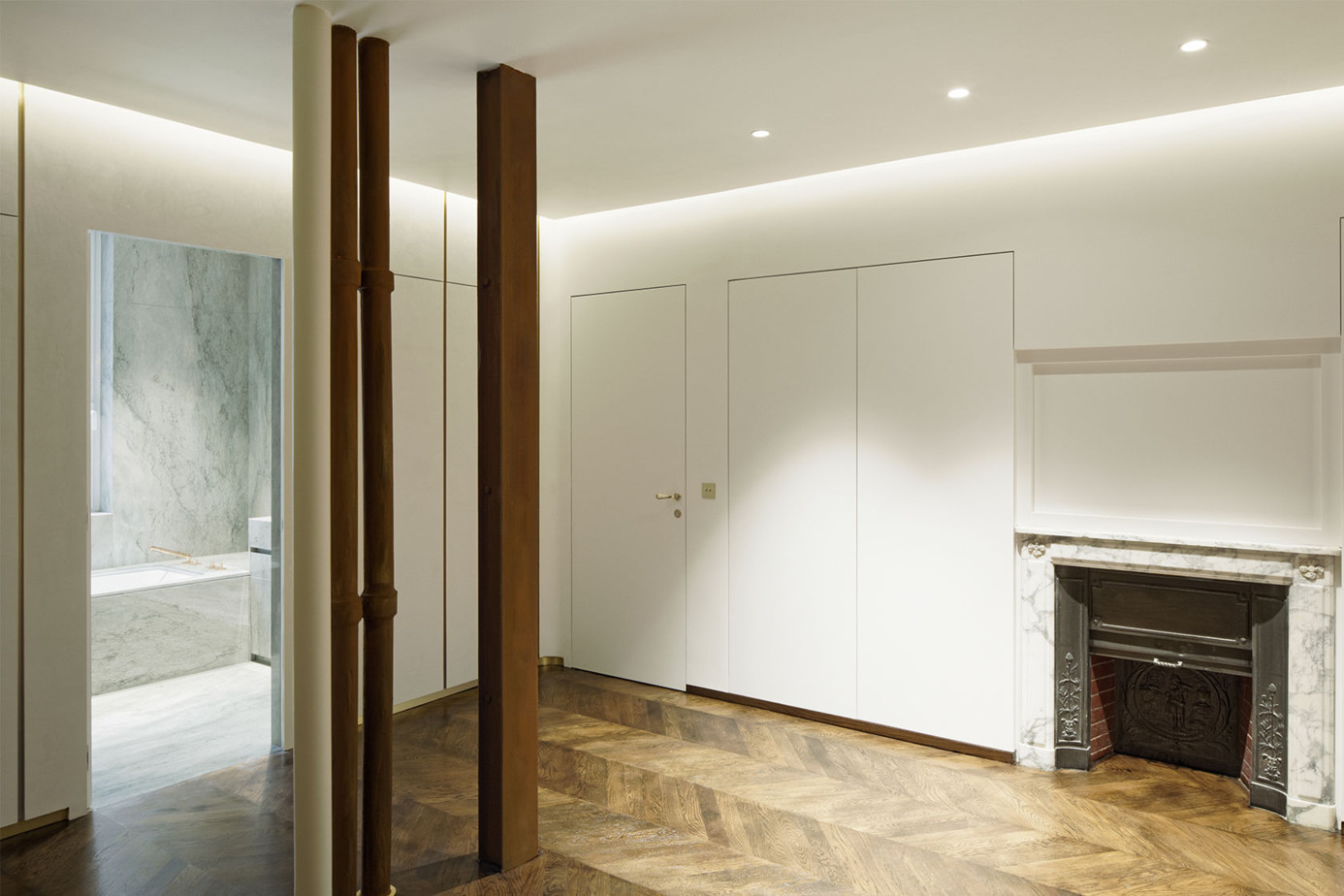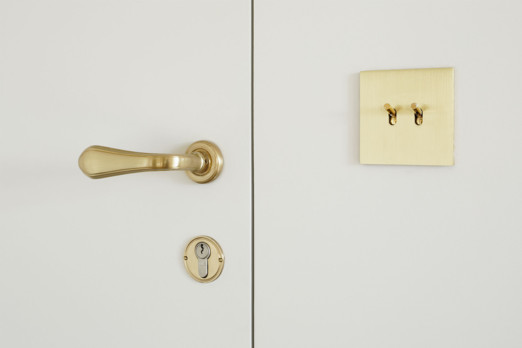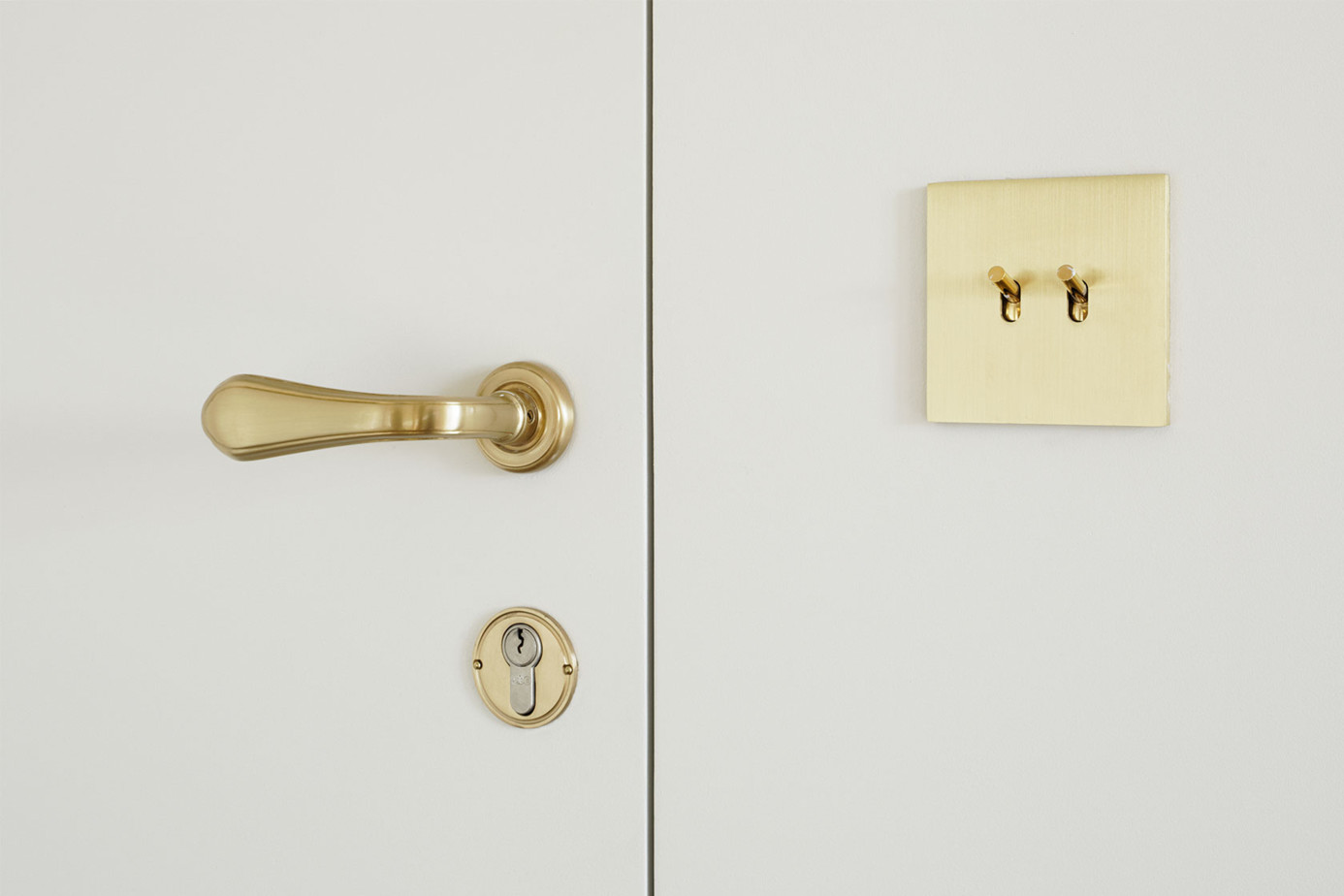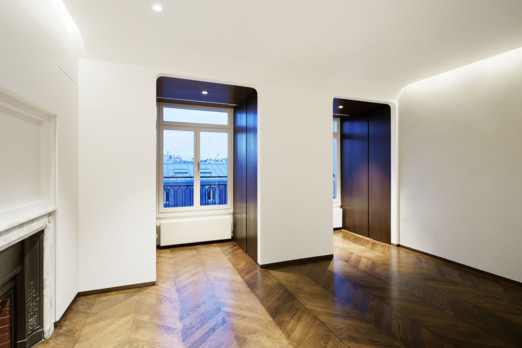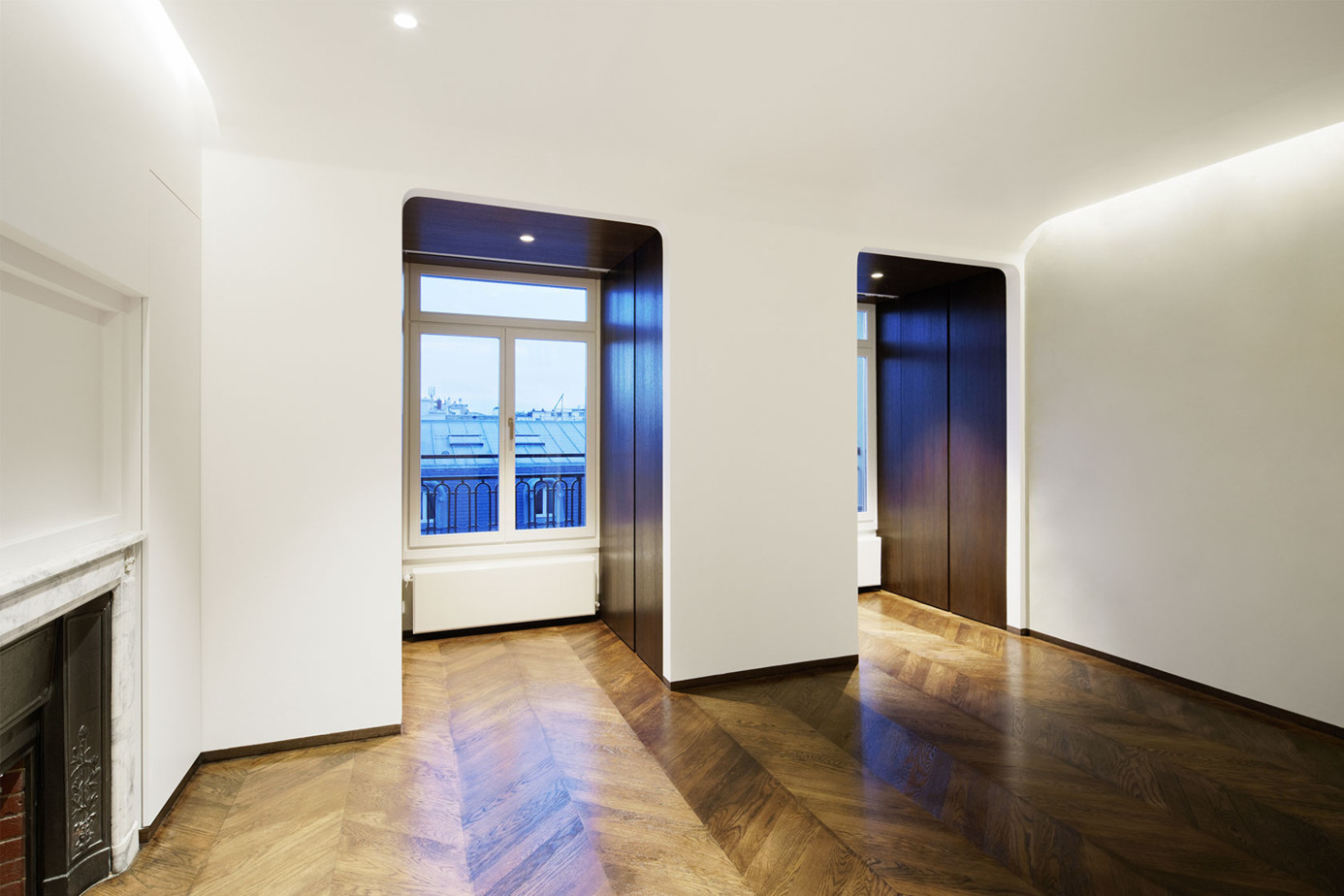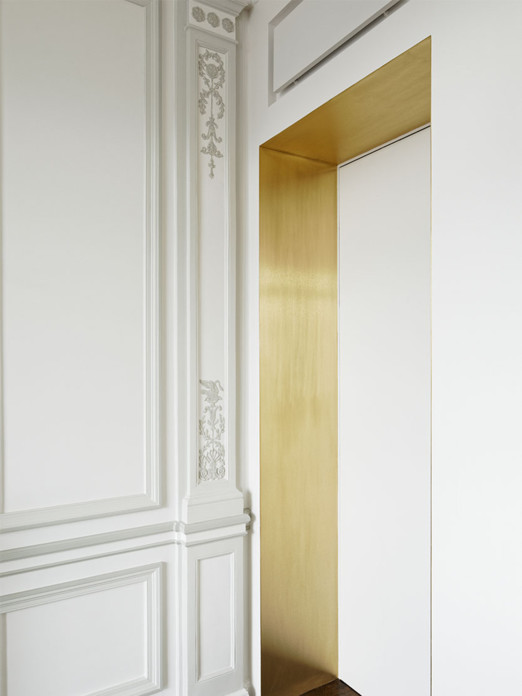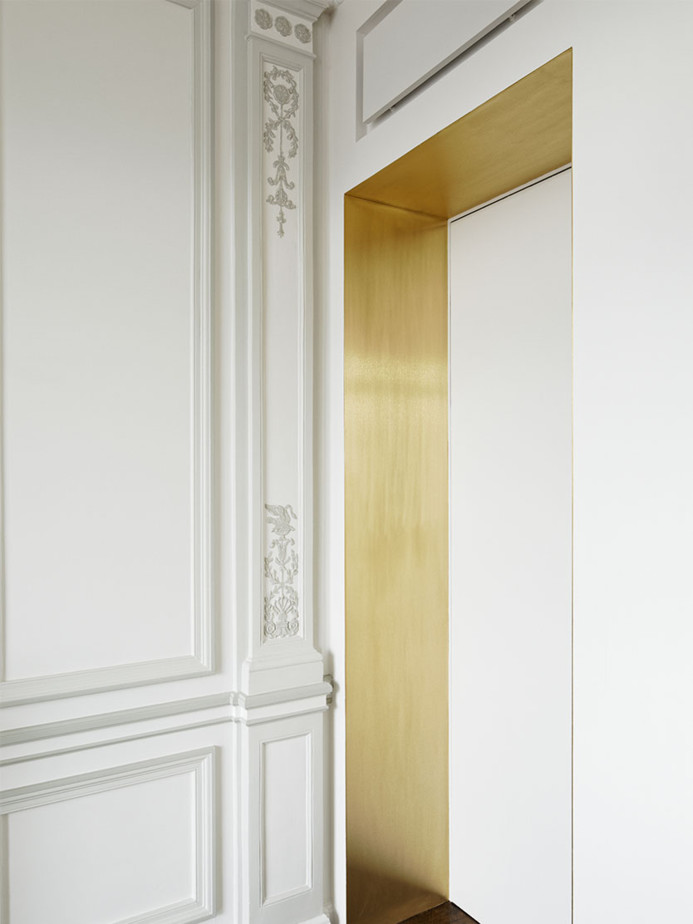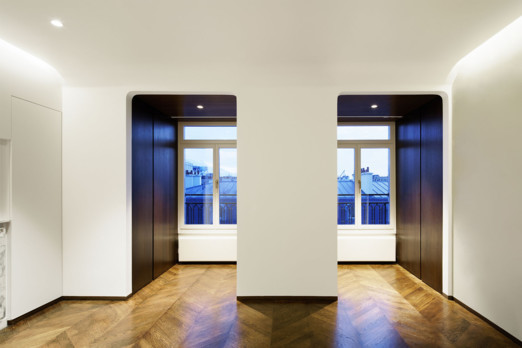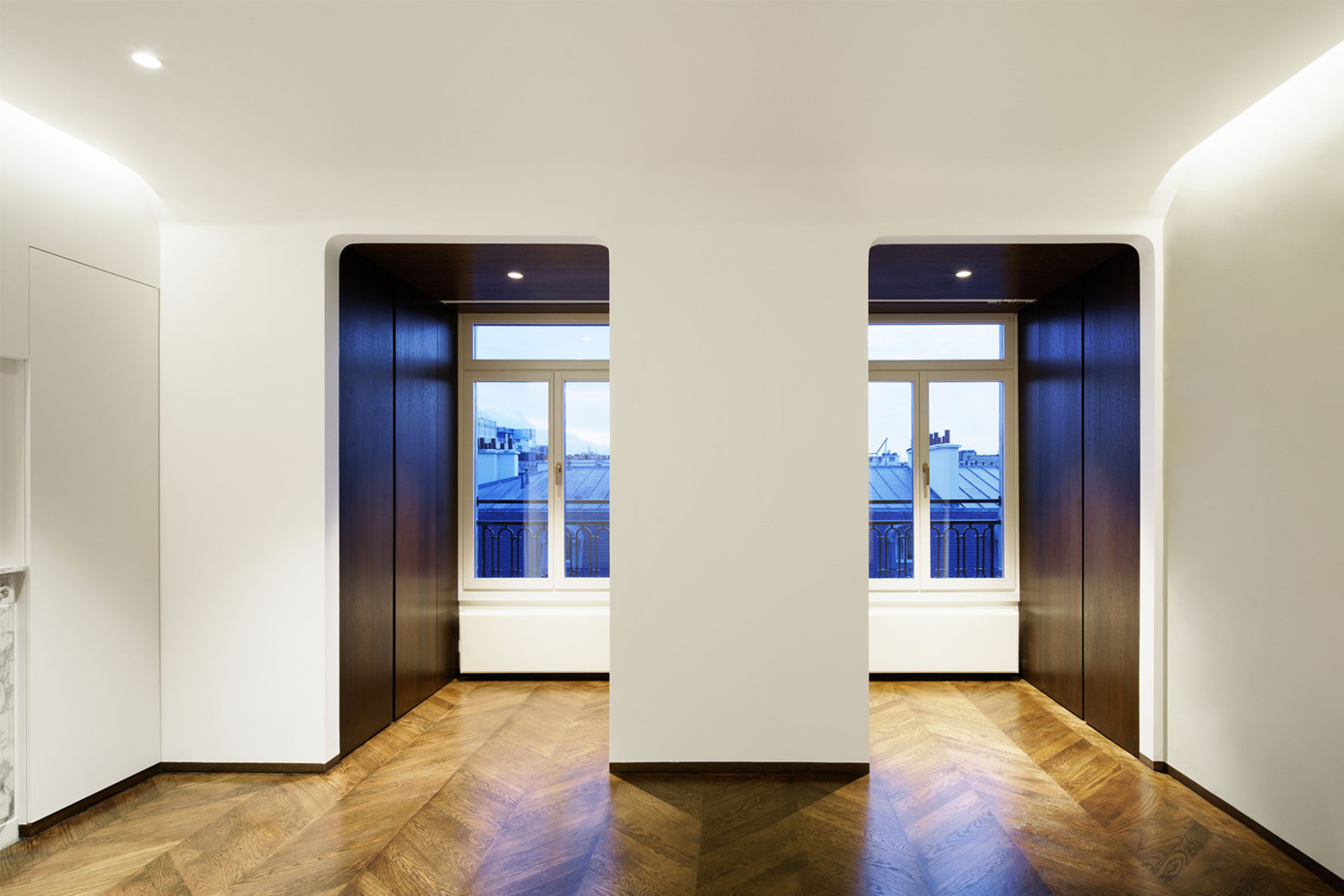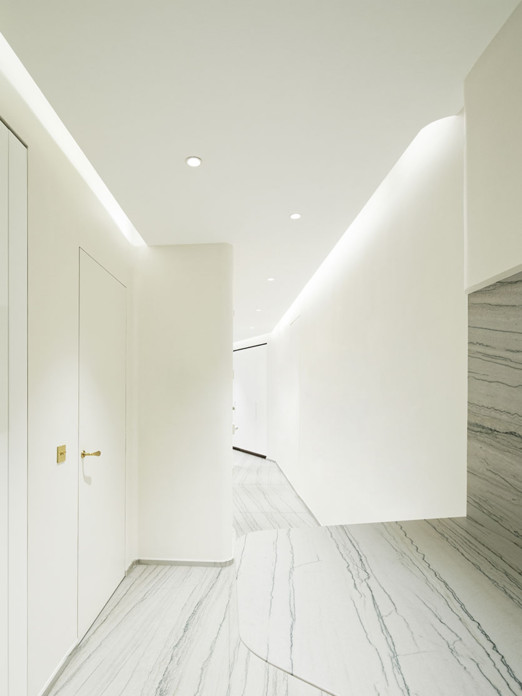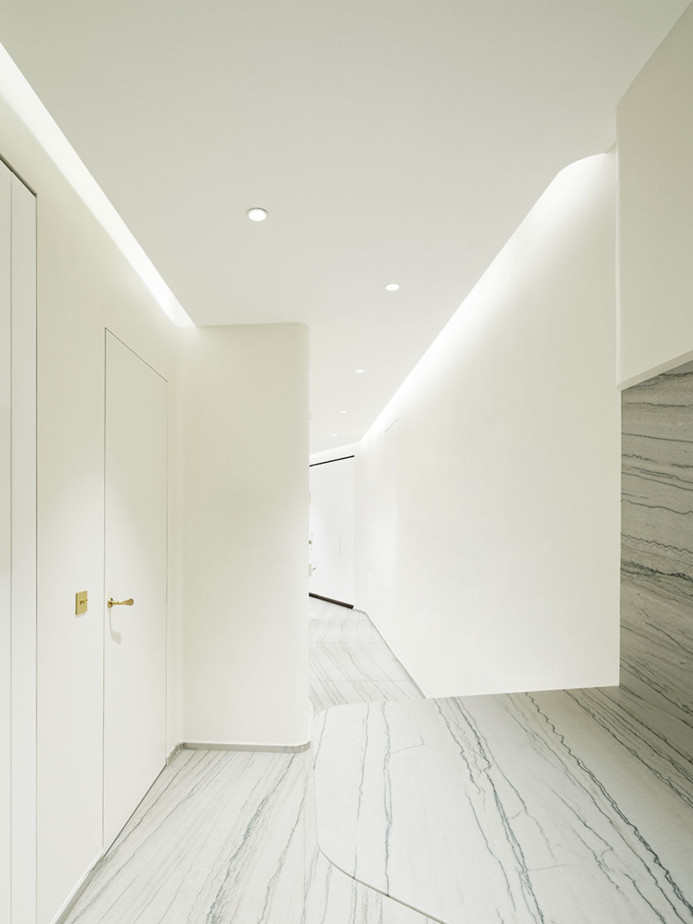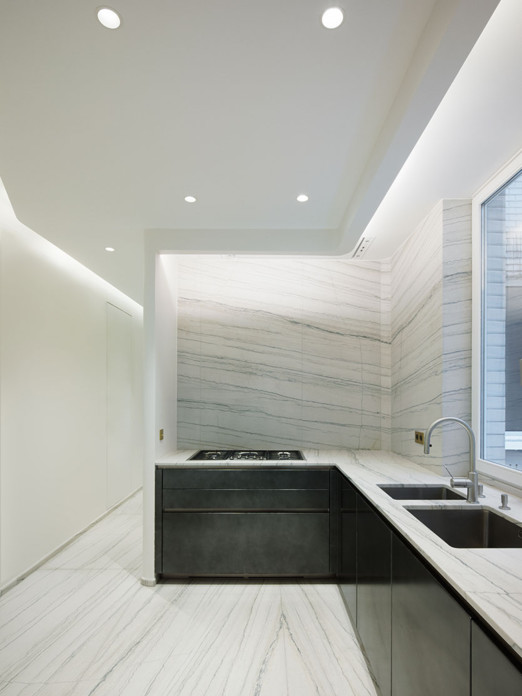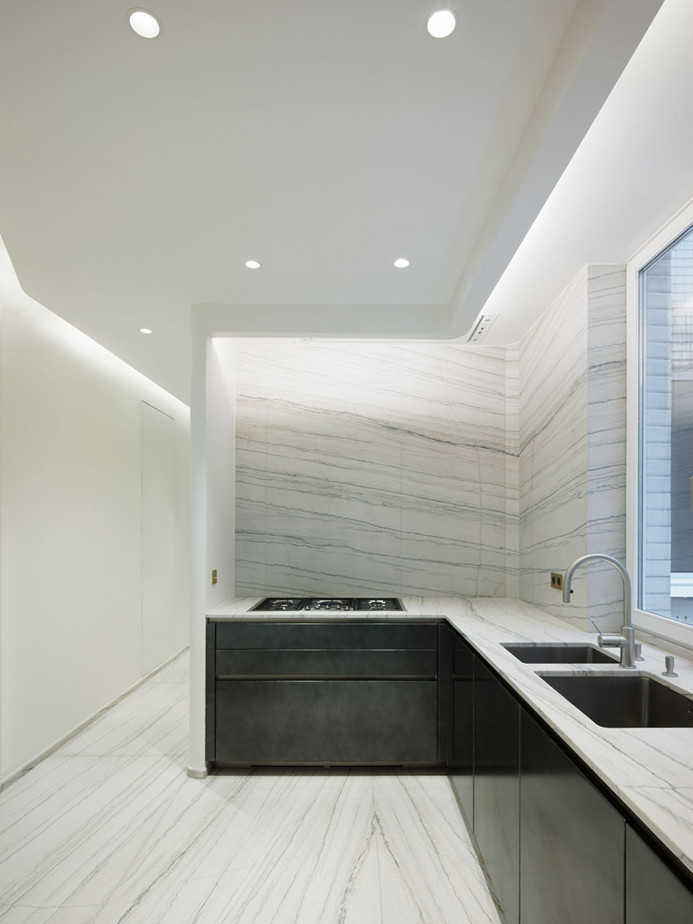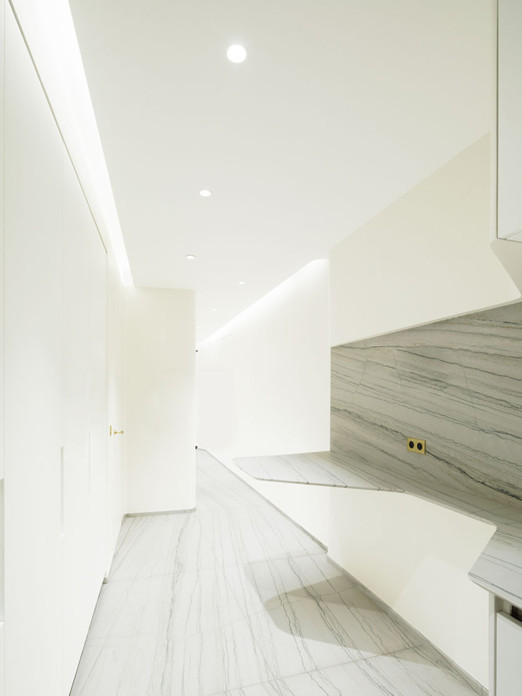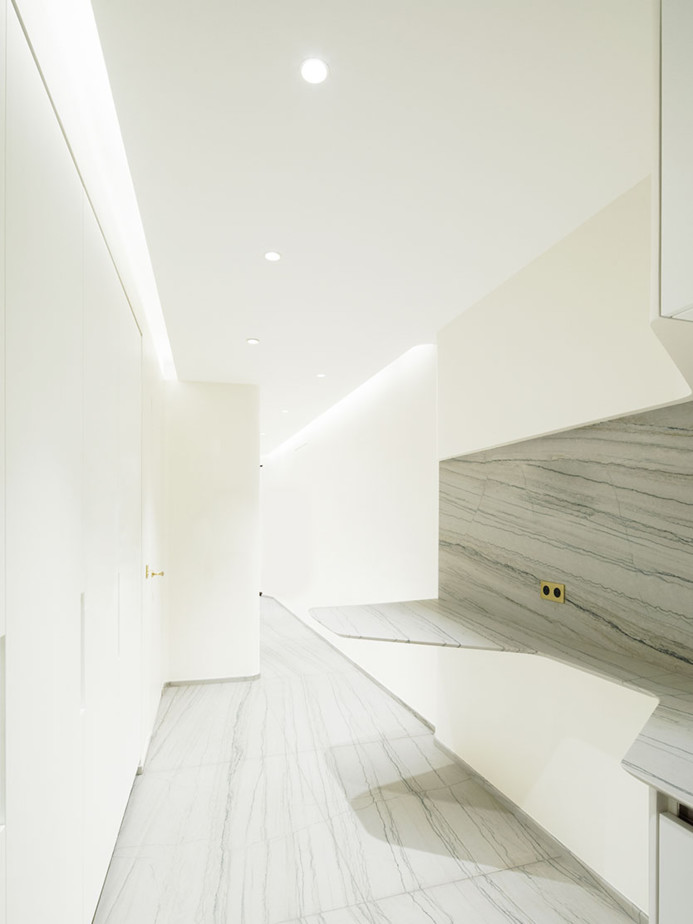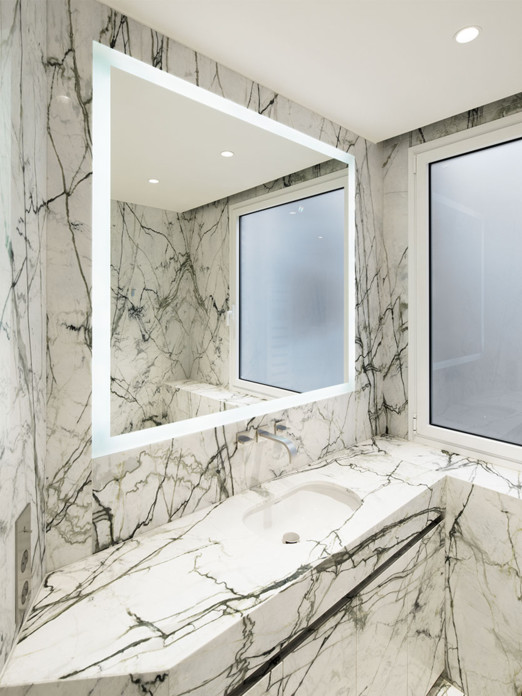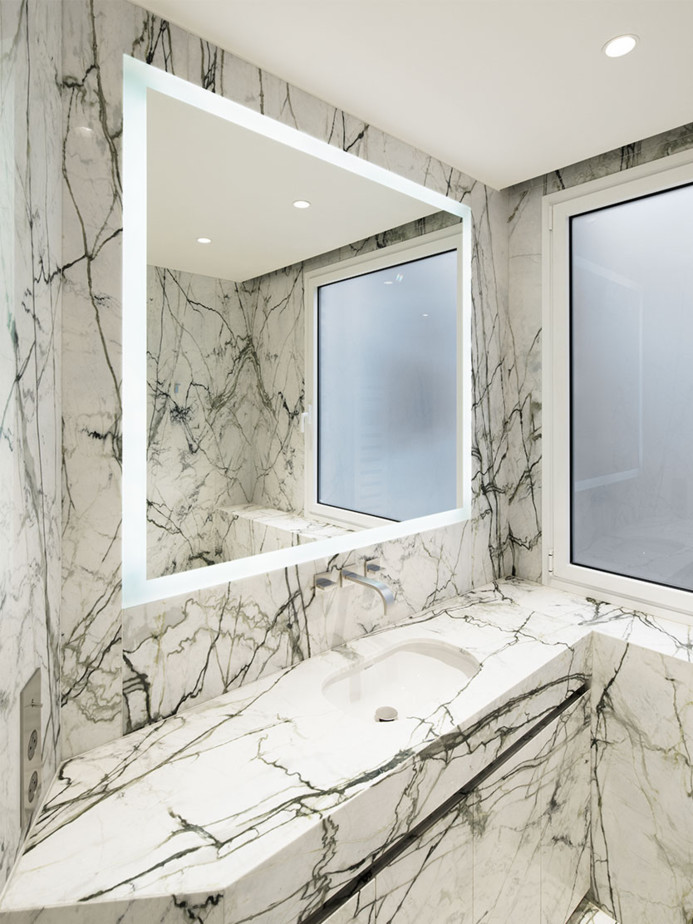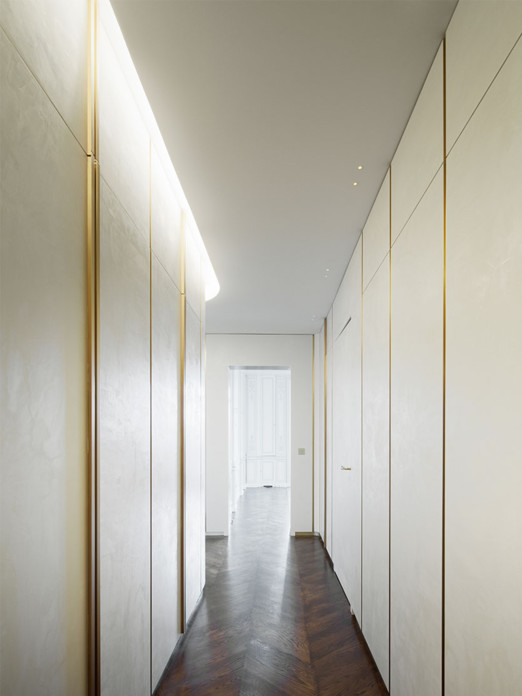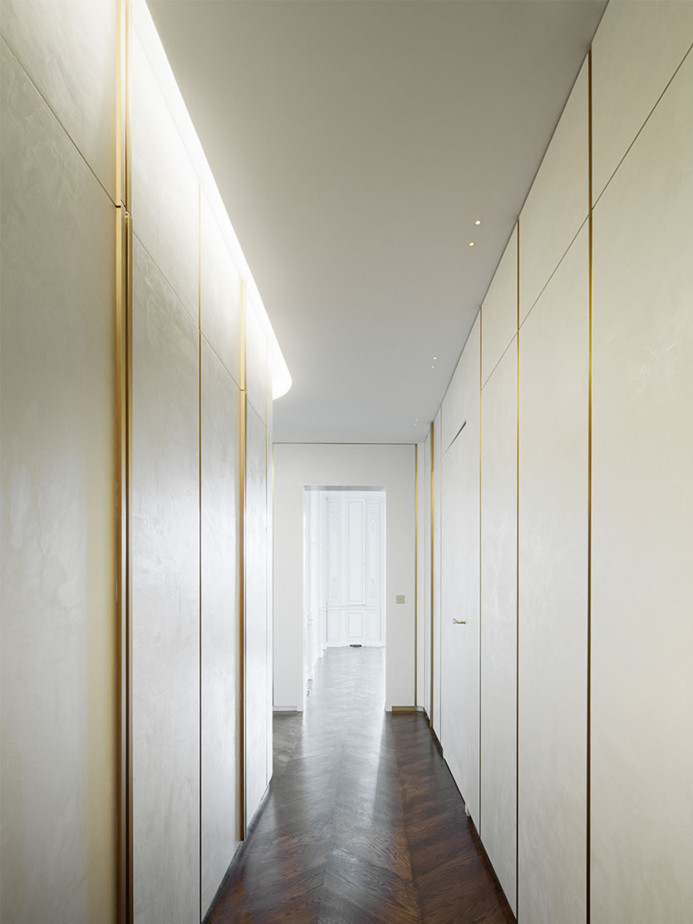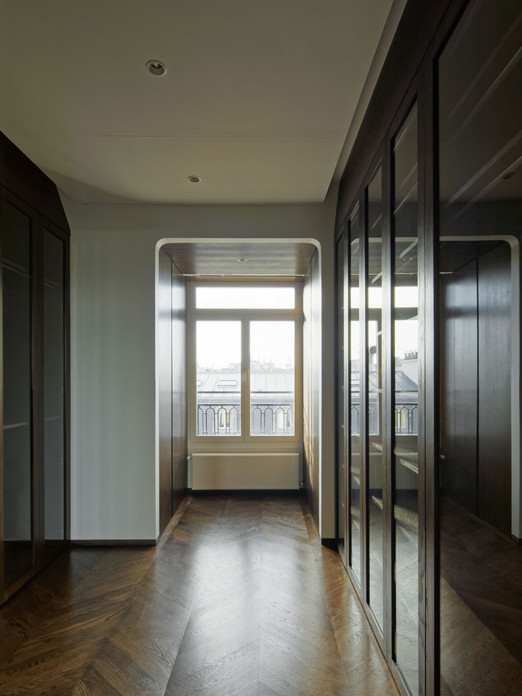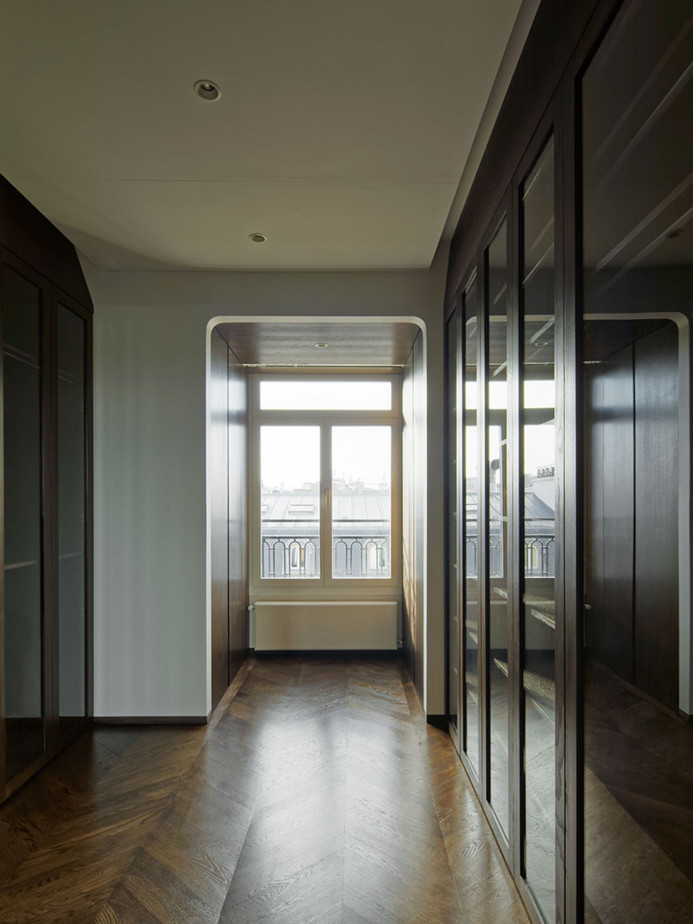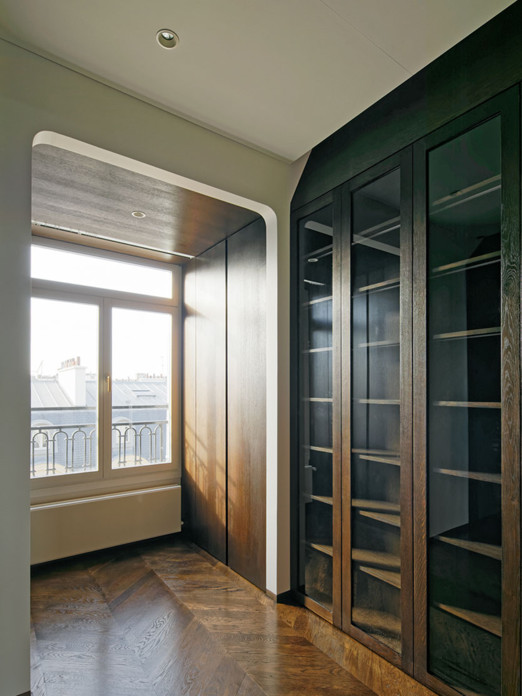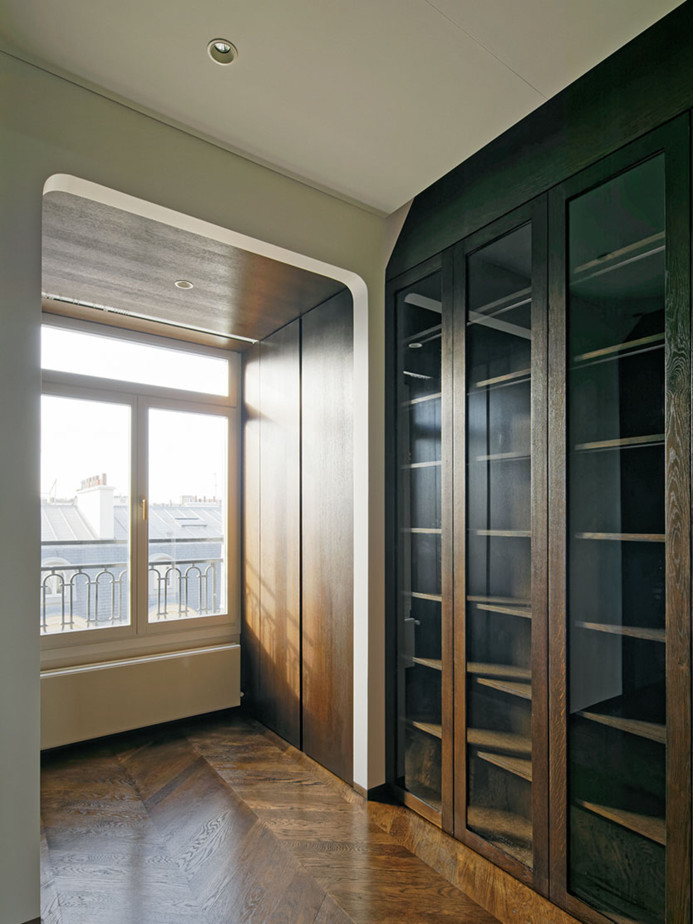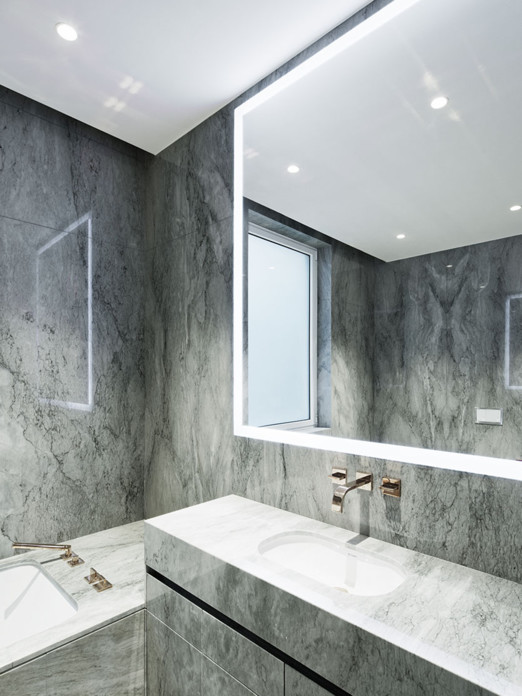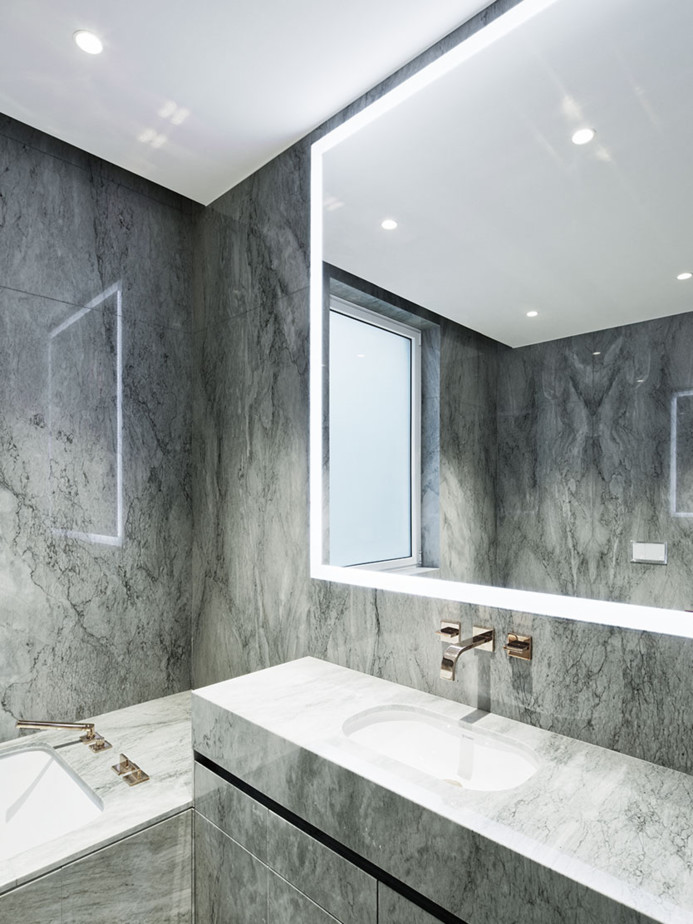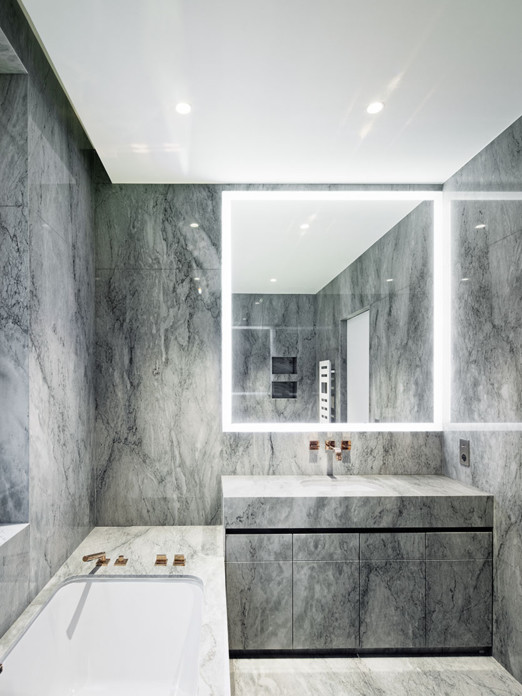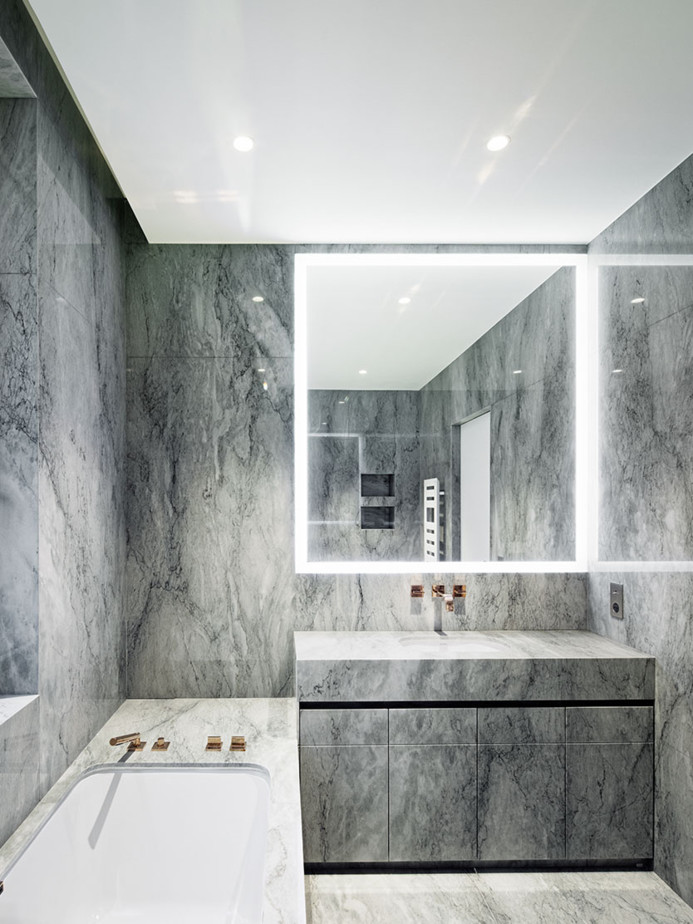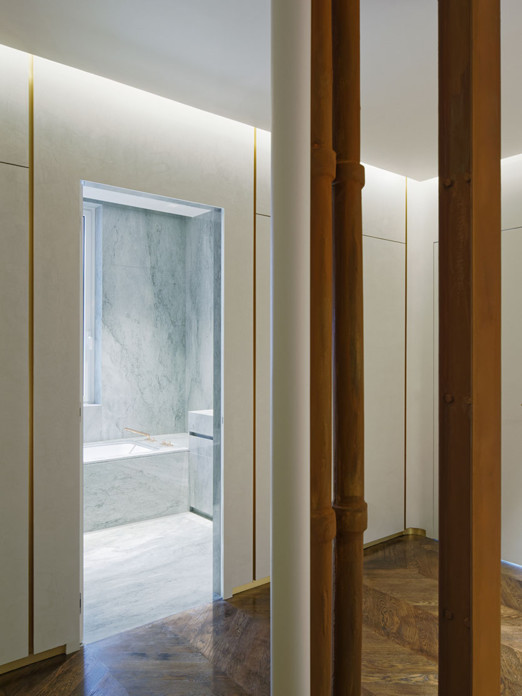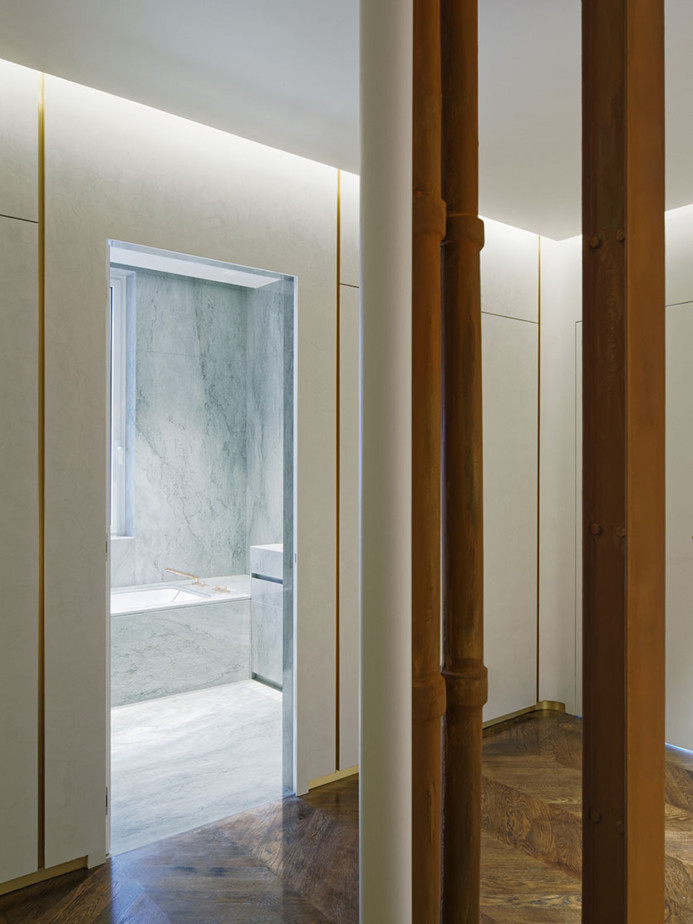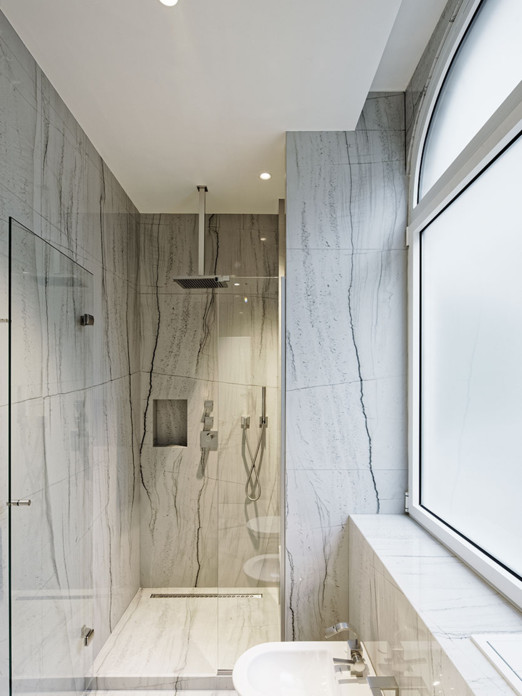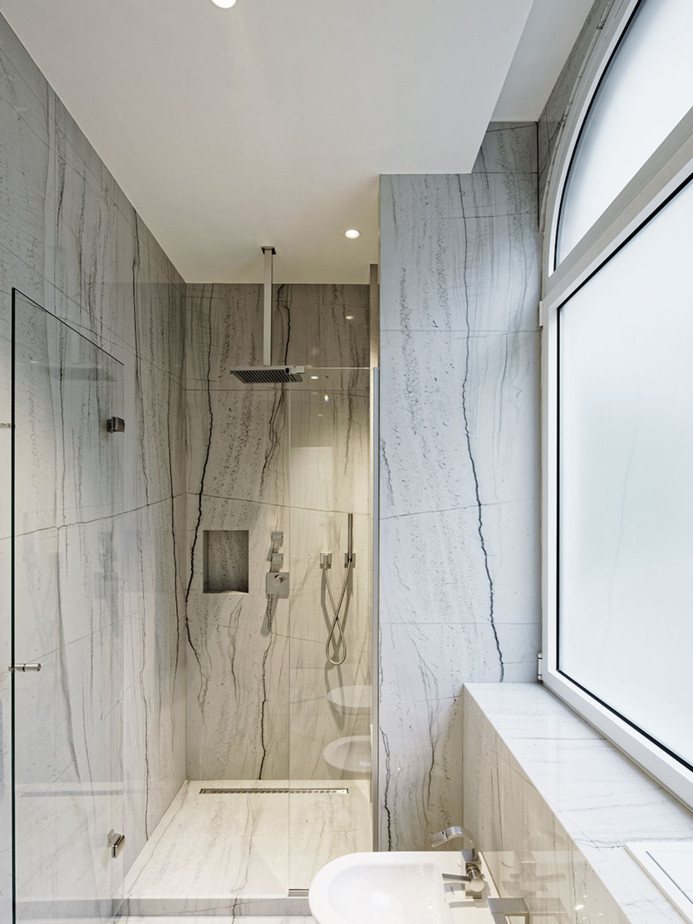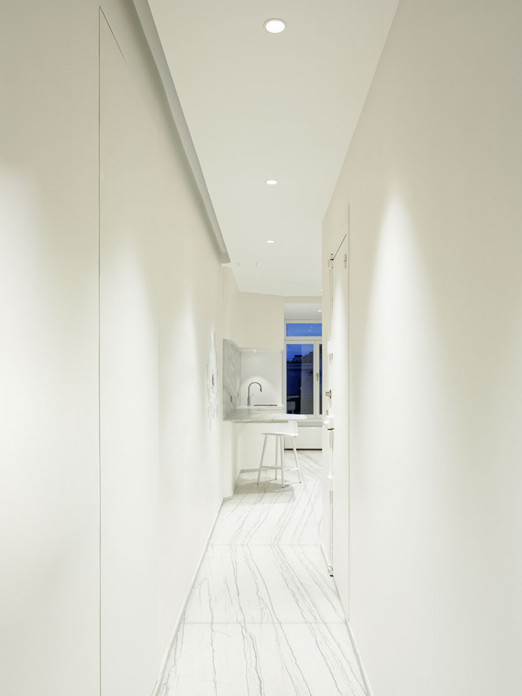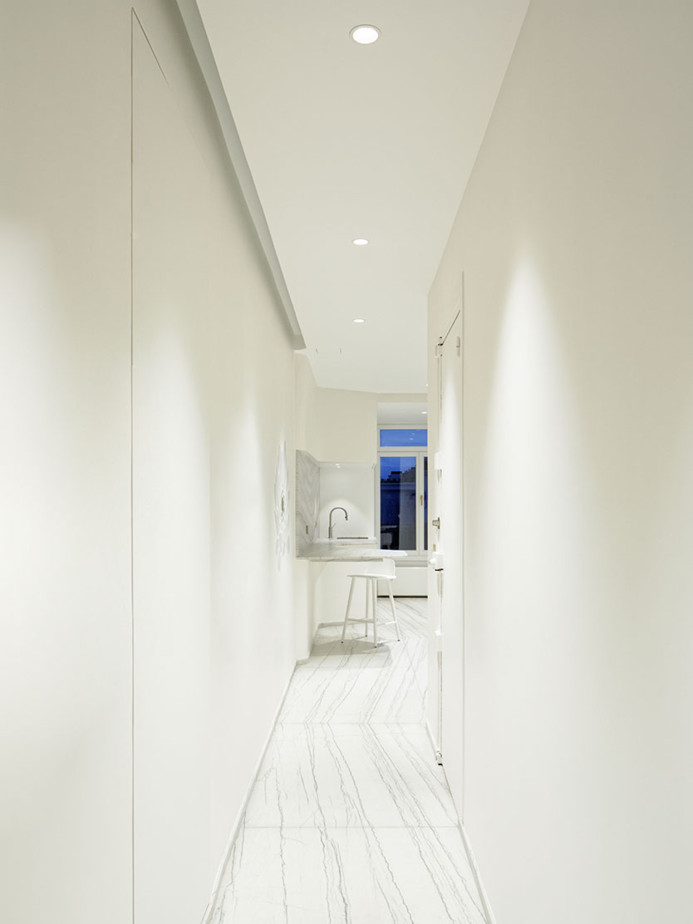 Info + Press
Project information
Program
Rénovation d'un apartement
Project team
Architect
Lina Ghotmeh — Architecture